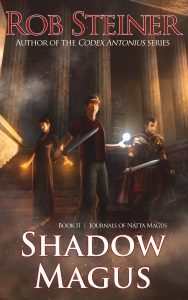 Natta Magus is getting used to life in Augustan Rome. While it doesn't have twenty-first century perks like baseball or coffee, at least his unique magical skills can help his Aventine Hill friends.
But the Roman government has noticed his talents, and they call on him when a religious artifact from Rome's ancient past is stolen. Natta discovers the thief is a magus as powerful as him, which should be impossible in this era. Unlike him, the magus wants Rome to die screaming.
Play ball.
SHADOW MAGUS is the sequel to CITIZEN MAGUS, and book two in the Journals of Natta Magus series, by the author of the Roman sci-fi/alt-history Codex Antonius saga.