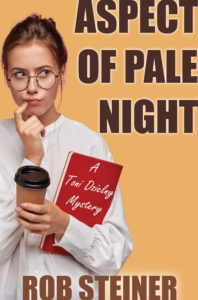 Think Stephanie Plum meets The Big Bang Theory, and you'll have the premise behind this all new "geek chic" mystery novel, ASPECT OF PALE NIGHT.
Times are tough in metro Detroit, especially for Hamtramck girl and part-time tech blogger Toni Dzielny. Within days, she's lost her technical writing job, has to swear off coffee due to her hypertension, and interviews for her dream job as a writer for the Detroit Free Press, only to find she's competing for the same job with her beautiful nemesis, Kayla Ratcliff.
As if that weren't enough, she learns her ex-boyfriend, Leo Donnelli, was murdered less than two miles from her house. But before he died, he snail-mailed her a mysterious computer disc telling her to "keep it secret, keep it safe." And the fact the police consider her a "person of interest" in Leo's murder doesn't bode well.
So when the real murderer threatens violence against Toni, her friends, and her family, she's had enough.
Toni enlists the help of her brilliantly nerdy friends to clear her name and learn the contents of the disc before she shares Leo's fate. They discover the disc not only points to why Leo was murdered, but that it holds a secret that could destroy a local cancer center's new research…and her mother's only hope for treatment.